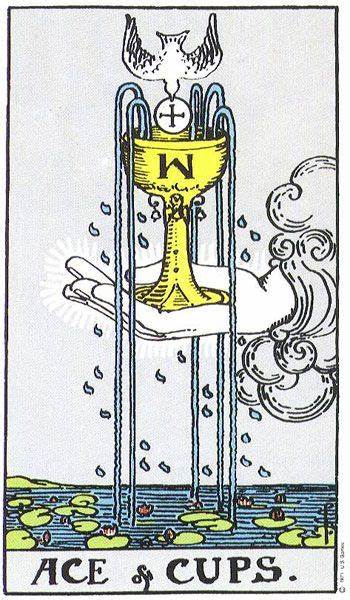 Ace of Cups: Tarot Card Meaning and Description
---
| | |
| --- | --- |
| Arcana name: | Ace of Cups, Fertility |
| Category: | Minor Arcana: Cups |
| Direct position: | Discoveries, gift, gift of fate, love |
| Reversed position: | Loneliness, grief, loss, fading of love |
Ace of Cups: General meaning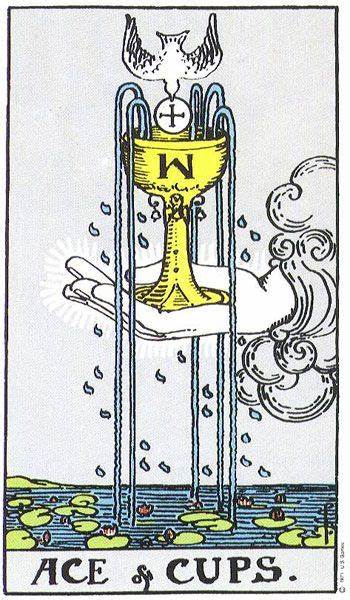 Direct position
The Ace of Cups is a sign of internal energy, openness of the soul to everything new, spiritual harmony and comfort. In a word, we can say that this is a card of bliss. Such an Arkan falling out in the layout indicates that happiness is at the door of the fortuneteller. This is a bright ray that appears in a dark soul, it expels all sadness, despondency, anger, fears from there.
At the household level, the Ace of Cups falls out when some changes in routine life are expected. Those who are very much expected. This is a party, a feast, a wedding of a best friend, where you can have a good walk. This is a good, but old friend who suddenly appeared, who decided to establish a connection.
Reversed position
The Ace of Cups in an inverted form falls out when fateful meetings, opportunities and any benefits will be delayed, at best. And in the worst case scenario, they will completely pass by the fortuneteller. Everything you hope for is futile and meaningless. Expecting something bright and good will eventually bring disappointment and moral emptiness.
The lasso indicates that all the opportunities that will soon meet on the path of life will lead to nothing, or the fortuneteller will not be able to take full advantage of them. In everyday life, the card symbolizes mood swings, irritability or apathy.
Perhaps the time will come for loneliness, which will entail a storm of emotions and feelings in the soul, introspection. The worst option is depression, addiction to drugs and alcohol, when a person artificially tries to cheer himself up.
Ace of Cups: Meaning in love and relationships
Direct position
The card indicates the emotional state of the fortuneteller. This bliss, the feeling that there is nothing else besides this deep and vivid feeling, does not make sense. The Ace of Cups is often a sign of devotion and fidelity to a partner.
If the fortuneteller does not have a relationship, the loss of such an Arcana speaks of the speedy emergence of new fruitful relationships in life, which will eventually end in a strong marriage in love and prosperity. At the same time, you don't need to look for your fate, it will happen quite suddenly, as if she herself will knock on the door.
When they are guessing at a certain person who evokes sympathy, such an Arkan foreshadows that the fortuneteller will begin a stormy romance with this object of sighing. If the card characterizes the beloved, then this is a sign of the gift of fate, which in no case can be rejected. Don't doubt it, don't test it.
Reversed position
On the negative side, the Ace of Cups manifests itself when there is a deterioration in relations between spouses, in life there is sexual dissatisfaction with a partner. This is a sign of distrust and infidelity, disappointment.
The fallen Arkan indicates the fact that it is easier for a fortuneteller to be loved, but to love someone and give affection and care, attention to a loved one is not at all necessary.
Ace of Cups upside down - empty emotions that are often played out, a demonstration of non-existent ideal relationships. That is, "in public" the couple is doing well, but behind closed doors constant scandals await them.
This Arkan also shows that a fortuneteller prefers to manipulate his beloved for the sake of achieving his own benefits, that is, the attitude towards his spouse is more consumerist.
Ace of Cups: Meaning in Situation and Question
Direct position
In a positive aspect, the card indicates some new experiences in life that relate to the emotional sphere. Most likely, soon there will be an engagement, pregnancy, an important event that entails a range of feelings.
If you already have a relationship with a person, they will definitely move to a new stage. If there is a desire to give birth to a child, success awaits the fortuneteller in this matter. Often Arkan indicates a pleasant and welcome gift from a loved one.
The Ace of Cups in the layout of the situation is a symbol of beginnings in love affairs.
Reversed position
This position of the card can be interpreted as an emotionally unstable period in life, which is about to come. This may be due to loss, separation, death of a loved one, career downturn. A fortuneteller will have to establish spiritual harmony with renewed vigor, to find peace.
Some person in your environment is manipulating you, trying to take advantage of you. Most likely, the person making the alignment already feels at least a bit of sympathy for him, this is very dangerous, because it can develop into a one-sided emotional attachment.
Ace of Cups: Meaning of the card of the day
The Ace of Cups in such a situation is an omen of the fulfillment of a cherished desire. Everything that is thought during this day will surely come true, take advantage of this chance. The card indicates changes in amorous affairs.
Intuition tells the fortuneteller that something promising will happen, this is connected with a person from the environment.
A good day will also be for someone who finally wants to reconcile with someone, to solve an old, but no less weighty, problem. Also, the lasso warns against empty dreams that do not bode well. Set realistic goals today to achieve them.
Ace of Cups: Tip Card
Do not skimp on emotions in relation to relatives and friends, especially parents and spouse. Give them a warm hug, a smile, a phone call or a surprise visit. This will make not only them happy, but you too.
In the near future, you can completely and completely rely on intuition, it will tell you the right path. Trying to analyze everything, a fortuneteller can only get confused and take the wrong step. Listen to your inner voice, it will lead you in the right direction.
Ace of Cups: Combination with other cards
Major Arcana
Wands
cups
swords
Pentacles

Jester

rejected offer; frivolous proposal

Ace of Wands

love

Mage

a job offer

King of Wands

creative inspiration; petition

Priestess

offer information

Queen of Wands

hand offer; declaration of love

empress

offer something of value

Knight of Wands

impulsive but short-lived impulse

Emperor

family or project proposal

Page of Wands

love message

Priest

merger proposal

Two of Wands

moving

lovers

An offer of marriage

Three of Wands

fruitful cooperation

Chariot

move proposal

Four of Wands

An offer of marriage

Strength

desire to reconcile

Five of Wands

criticism; discontent

Hermit

rejected proposal

Six of Wands

successful promotion of the proposal; acceptance of conditions

Fortune

bring change

Seven of Wands

obstacles; barriers

Justice

throw out the white flag

Eight of Wands

good news; the arrival of a loved one

Hanged

intentions will remain only intentions

Nine of Wands

dubious offer; sophisticated ladies' man

Death

bring comfort

Ten of Wands

attempts at reconciliation are doomed to failure

Moderation

understanding

Devil

double bottom offer

Tower

proposal for divorce; dismissal

Star

hope for reconciliation

Moon

dark offer; secret patron

Sun

consent to the offer

Court

ask for help from an angel

World

offer the world