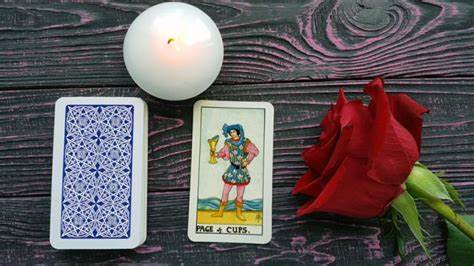 Page of Cups: Tarot Card Meaning and Description
---
Arcana name: Page of Cups, New emotions
Category: Minor Arcana: Cups
Direct position: Good news, momentum, chance, push
Reversed position: Spoiled, daydreaming, isolation, bad habits
Page of Cups: General meaning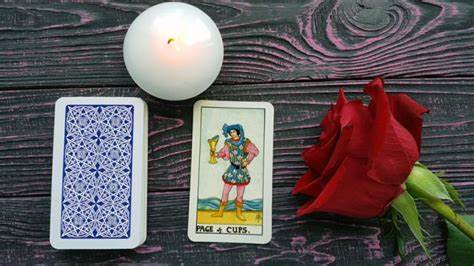 Direct position
Arkan is endowed with quiet joy, love, romance, and dreams. The card carries an emotional load and is a symbol of love. In the scenario, you should expect a love message, news of a wedding, perhaps information about pregnancy or the birth of a child will come.
With this card, a person decides to take the first step for reconciliation or reunion. Basically, this card falls out to a young person (boy or girl) who has a rich soul, sensuality and is capable of strong emotions.
Maybe a person will take up some new business, which will turn out to be very promising. If a person experiences experiences, then they will be associated exclusively with new acquaintances and fresh feelings.
There will be a meeting with a person who will play an important role in his life. He will help in business, and he will do it not for service, but for friendship. The card symbolizes love, joy, kindness, a friendly gesture, creative ideas and ideas.
Reversed position
Under the influence of an inverted card, a person becomes distracted, his hopes are unfounded. If a truce occurs between people, then, as a rule, it is temporary. The person to whom this Arcana falls is an infantile personality, his emotions dominate his mind.
Often this card is associated with a small soap bubble that easily evaporates. A person experiences shallow feelings, so the fog will soon dissipate, and everything will soon change. A person can be insecure, because of this he is even able to "bury his talent." He may refuse reconciliation, will not want to make contact, and even reject confessions.
The card speaks of a breakup, a withdrawn invitation, a postponement of a date, a loss of innocence, a loss of trust. A person can easily be influenced by others and risk being used. His dreams are unrealistic, although he continues to believe in them.
Page of Cups: Meaning in love and relationships
Direct position
There comes a favorable period in a person's life when you can enjoy calm and harmonious relationships. It is especially pleasant when the reconciliation of two people occurs after family quarrels and conflicts.
If the relationship of two people is just beginning to develop, then we are talking about strong feelings, when partners are simply attracted to each other, like a magnet.
The guy wants to propose to his girlfriend. It is not surprising if their relationship moves to a new, more adult level - the creation of a family. The card is safe. And even if it cannot be said that a complete idyll awaits a person on the love front, then there is a good chance to feel this wonderful feeling.
Reversed position
Arcana implies unpredictable relationships. A partner can turn out to be a terrible egoist and careless person. To save the past, a person is capable of much, but not with an inverted Page of Cups card. All his attempts will be useless and fruitless.
Under the influence of the card, windiness, promiscuity in love is observed. A person will go downhill, succumb to someone else's influence. Perhaps he will be drawn to a person who will be capable of deceit, falsehood, cheating, flattery and treason. And he will learn this lesson so that he will not face bitter experience in the future.
Page of Cups: Meaning in Situation and Question
Direct position
The fortuneteller will have a well-developed intuition. He will feel well the profitability of business and the prospects of projects. New offers will not only be a good future, but will also be remembered for pleasant moments and impressions.
The fortuneteller will be praised, thanked, his labors and talents will be deservedly recognized. The card indicates that a person will be offered a promotion, he will get close to an influential person.
The lasso will give pleasant moments to the fortuneteller, who will make every effort to achieve the goal. He will rightfully be considered a trustworthy employee, and just a useful person. In business situations, partners will meet him halfway, so you can expect another success.
Reversed position
The map, when dealt with the situation, indicates problems and failures. And you can blame yourself for these problems. A person will be unable to organize the work of the team and his own workplace. Even if he is right about something, he will not be able to defend his point of view, give certain arguments.
An inverted card pushes a person to the need to draw the right conclusion in the current situation. Perhaps in some way he will show his dishonesty, will count on outside help. But still, it would be better if he showed his determination and did at least something thanks to his own strength.
Under the influence of the inverted Page of Cups, there will be interference in business, so a person cannot count on success.
Page of Cups: Meaning of the card of the day
Fate is on your side. New opportunities and emotional nourishment open up before a person. Today is the day when a person can accept the gifts of fate, while giving nothing in return.
This can even manifest itself in ordinary trifles (compliments, declarations of love, an honorable compromise in difficult circumstances). His undertakings will bear fruit, and the affairs that he previously dealt with will end in success. By the way, you can think about career growth, there are prospects.
Page of Cups: Advice card
You need to trust your intuition and follow your own feelings. We should not rely on common sense in important matters, but on the subconscious. A person can realize himself if he wants to. He will be very open to fulfill his desires.
The main thing is to make a decision on your own, to be attentive and very cautious. Indeed, behind the appearance and words, oaths and promises, an ordinary deception can be hidden. Don't let yourself be fooled. It is better to postpone projects that will have to be dealt with - they will turn out to be hopeless and doomed to failure.
Page of Cups: Combination with other cards
Major Arcana
Wands
cups
swords
Pentacles

Jester

frivolous proposal

Ace of Wands

tempting offer

Mage

to suggest an idea

King of Wands

serious creative project

Priestess

offer knowledge

Queen of Wands

pregnancy

empress

conception

Knight of Wands

momentary plans

Emperor

An offer of marriage; vacancy

Page of Wands

proposal to be studied

Priest

worthy offer

Two of Wands

a matter requiring careful planning and thought

lovers

offer cohabitation, create a family

Three of Wands

from words to deeds

Chariot

project to be improved

Four of Wands

replenishment in the family

Strength

a challenging project

Five of Wands

unsupported proposal

Hermit

reject the offer

Six of Wands

successful project; promotion plans

Fortune

start building a project

Seven of Wands

claims

Justice

filing a petition with the judicial or executive authorities

Eight of Wands

An offer of marriage

Hanged

project that hinders development

Nine of Wands

"cat in a bag"

Death

project to be updated

Ten of Wands

impossible project

Moderation

adjust the offer

Devil

seduction; setup

Tower

financial pyramid; failed project

Star

hope the offer will be accepted

Moon

vague proposal

Sun

conception; happy birth

Court

retribution

World

birth of a person, project, family