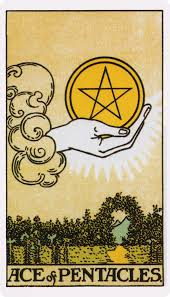 Ace of Pentacles: Tarot Card Meaning and Description
---
| | |
| --- | --- |
| Arcana name: | Ace of Pentacles, Financial Independence |
| Category: | Minor Arcana: Pentacles |
| Direct position: | Prosperity, independence, luck, praise, personal achievement |
| Reversed position: | Anxiety, hasty decisions, greed |
Ace of Pentacles: General meaning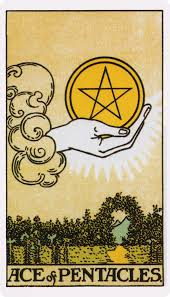 Direct position
A prosperous stage in life is expected soon. Perhaps new projects will begin that will be crowned with success. As a result, the fortuneteller will feel moral satisfaction. The Ace of Pentacles is always about personal growth. There is a chance that you will start doing something spiritual or get a promotion at work.
The person making the alignment invested a lot in some business, so the lasso foreshadows the successful resolution of the problem, it's time to collect the fruits of one's own activities. If there is a rich relative in the environment, expect part of the inheritance soon.
The authorities will surely praise you and thank you for your excellent work, maybe even give you a bonus, because the card also portends material benefits.
Many opportunities are concentrated around you, do not miss your chance, find it, and there will be happiness. The Ace of Pentacles is often interpreted as the appearance of necessary and important information, the emergence of a brilliant idea. High incomes are expected soon, the opportunity to become famous is not excluded.
Reversed position
In the inverted position, the card suggests all the same moments as in the upright position, but they will be in a negative way. For example, wealth will not make you a happy person. Plans are not destined to come true.
The inner calm state and the absence of a premonition of loss are rather deceptive. At the household level, a delay in wages or any payment for services is possible, because of this, many of the planned tasks will not be realized. There is a possibility of making hasty decisions that will turn out to be wrong.
In addition to material losses, the fortuneteller will rethink material values. In the case when the alignment is done on the character of a person, the ace of pentacles denotes greed, self-centeredness. The card predicts anxiety, chronic fatigue, health problems.
Ace of Pentacles: Meaning in love and relationships
Direct position
The Ace of Pentacles in divination for love and relationships is interpreted as strong and long-term family ties. Relationships between partners are built more on the basis of physical intimacy than spiritual intimacy. Often the lasso indicates a sudden turn for the better regarding romantic relationships.
The card advises to love yourself, your body, treat yourself with due respect, only after that try to look for a soul mate. If the alignment is done on the character of the partner, the loss of the ace of pentacles emphasizes his weak will.
Perhaps they just want to put you to bed faster, so they put a minimum of effort into courtship, they are in a hurry to develop relationships.
Reversed position
In a new relationship there will be many disputes due to incompatibility of interests and due to a lack of mutual understanding. The period of courtship before intimacy can be very long.
In a relationship layout, an inverted card shows that the union is built on the basis of calculation, and not out of love.
In the case when the card fell to a woman, she feels like a hostage of marriage, as if in a golden cage. Outwardly, everything looks great: a rich husband, a beautiful house, children, but she does not feel enough care, love and respect, she does not have enough personal space.
Ace of Pentacles: Meaning in Situation and Question
Direct position
Start new business, they will be successful, and promise a good income. The moment is favorable for the implementation of those plans that have long been conceived. There is a possibility that the fortuneteller is expecting a very expensive and valuable gift.
If funding is required to support an important project, then you should not worry, your business will be funded. For a job well done, you will definitely receive a reward, perhaps even more than you agreed with the customer before.
If the person making the layout for the situation is still a student, then the lasso foreshadows the successful completion of the thesis, practice, exam.
Reversed position
In a new case, there will definitely be problems that will entail consequences, most likely, losses in material terms. Desires and goals are not destined to be realized, and there will be reasons for this. Expect a delay in wages, the abolition of bonus payments, the refusal of the employer to pay money for the work done.
Health problems will arise if the disease has begun a long time ago, therapy will not give the expected results. Do not skimp on the advice of a good specialist. This behavior can lead to unpleasant situations. Do not make hasty and thoughtless actions, this can play a cruel joke.
Ace of Pentacles: Meaning of the card of the day
Today, luck will follow on the heels. Be extremely careful, do not miss your chances, they warn you in different places and at the most unexpected time. Invest in those plans that are long-term and realistic, especially when it comes to career and earnings.
If all plans are only short-term, then today will be a great start for far-reaching tasks.
Ace of Pentacles: Advice card
Success and well-being depends only on you. Be more active, do not miss numerous opportunities, communicate with people around you more often, do not be afraid of new acquaintances, because they will bring useful connections. Now fortune has turned to face you, do not miss this moment.
However, you should not look for only material rewards in everything, do not forget about spiritual development, family.
Ace of Pentacles: Combination with other cards
Major Arcana
Wands
cups
swords
Pentacles

Jester

Ace of Wands

invest in some inspiring project

magician

money starts working

King of Wands

promising financial project; diligence in finance

Priestess

passive capital; stash

Queen of Wands

financial power

empress

financial profit

Knight of Wands

spending or investing on impulse

Emperor

family capital, business

Page of Wands

financial planning

Priest

financial donation; amulet

Two of Wands

financial delay

lovers

joint budget

Three of Wands

financial plan; money from commerce

Chariot

the chances of making a profit are very ambiguous

Four of Wands

financial success

Strength

a real chance to take control

Five of Wands

lose money

Hermit

think about something worthwhile; poverty

Six of Wands

promotion of a financial project; skillful use of money

Fortune

financial instability; jackpot

Seven of Wands

financial investments; deposit; bill; securities

Justice

get something on merit

Eight of Wands

quick profit; financial receipts

Hanged

financial stranglehold; donate money

Nine of Wands

the financial analysis; audit

Death

undeveloped project

Ten of Wands

financial pressure; excessive financial burden

Moderation

saving money, resources

Devil

"dirty money

Tower

failed project; financial loss

Star

the hope of making a profit or gaining something of value

Moon

fraud in a financial matter; dubious project

Sun

gold; financial well-being; excellent health; conception

Court

profiting from past efforts

World

financial reward; medal of merit