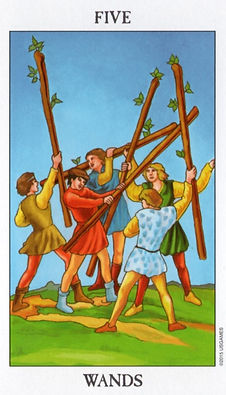 Five of Wands: Tarot Card Meaning and Description
---
| | |
| --- | --- |
| Arcana name: | Five of Wands, Feigned Fight |
| Category: | Minor Arcana: Wands |
| Direct position: | Test, struggle, dispute, task, riddle |
| Reversed position: | Opportunity, overwork, peace, harmony |
Five of Wands: General Meaning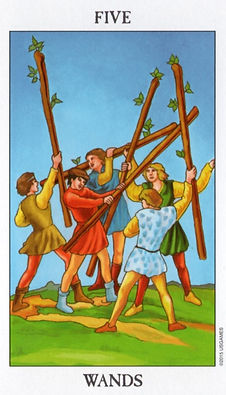 Direct position
The main meaning of this card is the struggle with other people, possible competitors who use the same methods as yourself, but have the opposite opinion. To a greater extent, this is an open clash with equal rivals, rather than deceit.
The lasso can denote changes that will not go the easy way, and for them you will have to make efforts, overcoming yourself and life's difficulties. There is rivalry here, but it is not destructive, but useful, which allows you to test your strength and strengthen confidence in them in case of success.
The battlefield can be, like you have known for a long time, or completely new. Often this is competition at work or participation in another competition. This is a kind of challenge, an opportunity to realize oneself by overcoming difficulties.
The value of the card has a favorable outcome, the challenge is thrown, but you should also have enough strength, therefore, you should not expect a complete defeat in case of failure, and the opportunity to succeed is quite high.
Reversed position
In an inverted meaning, the card means struggle in the worst manifestations, deceit, intrigue, the desire to benefit from the conflicts of strangers. Sometimes a card can even mean excessive cruelty and possible problems with the law.
Conflict and struggle do not carry a positive start and cause only nervousness, unnecessary fuss and underground intrigues. Also, a possible failure due to deceit, or it means that the argument was not worth it, in the end you will only lose strength and time.
Incorrect assessment of one's own capabilities as a result of failure. The inability to reach any kind of understanding.
Five of Wands: Meaning in love and relationships
Direct position
The lasso testifies to disputes between lovers. The constant struggle and desire to pull the blanket over you can lead to a compromise or a clear understanding of who is in the lead. Although there is a conflict, it is transparent, and the partners are honest with each other.
It may also indicate that some problems cannot be solved without a dispute, or that there is passion in the couple, and it does not get bored.
Reversed position
Constant conflicts and swearing can speak of the hatred of one person for another. This may simply be talking about the difficult nature of the partner, because of which quarrels arise. In general, this card is about empty conflicts, when there is no mutual understanding between partners, and the near future is not expected.
In the event of a divorce or separation, it speaks of the unsuccessfulness of this case, there will be many obstacles and minor quarrels that will take time and effort.
Five of Wands: Meaning in Situation and Question
Direct position
Situations are often associated with conflicts, intersection of interests, difficulties in solving problems.
Possible conflicts with colleagues at work, which lead to the necessary changes. Fundamental disagreements may arise, and no one will want to meet, as well as noisy demonstrative conflicts.
Nevertheless, such a stubborn struggle pushes for productive actions and the achievement of new heights. The struggle is transferred to health as a result, the temperature rises or minor inflammations occur.
Another meaning of the Five of Wands is the struggle for who will be the leader. The relationship between spouses is based on rivalry, because of this, conflicts arise. The constant struggle is the result, which can be the transition of relations to a new level, or their complete collapse.
Conflict with the outside world, defending one's rights and point of view. Do not be afraid of conflict as something negative. It's the same as challenging life and proving that you can. It is important to correctly assess your strengths in order to succeed.
Through this kind of aggressive behavior, you can develop and reach new heights, the main thing is to soberly assess the situation.
Reversed position
The Five of Wands reversed can signify a hidden and veiled rivalry. Rudeness, destructive conflicts and scandals, the likelihood of physical impact, the ability to wrap them in favor.
Disunity, lack of coordination and agreement in collective actions. Difficulties with the work due to misunderstandings after the work has been started. Empty and unproductive activity. A long recovery of the body when it fights with itself. The impossibility of agreeing and reaching a consensus.
The conflict is not on the surface, but hidden, which only gets worse with time. Closure, dissatisfaction, fear of an open conflict from the possible use of physical force. Enmity and hatred disguised as kindness.
It is important to abstract as much as possible from the conflict if it is necessary to show cruelty or rudeness in this. If the conflict can go too far, it is better to retreat in time before it is too late. In order not to be involved in a fight or other proceedings that do not carry any meaning, and are the result of hidden hatred, you need to move as far as possible from the center of clarification.
Five of Wands: Meaning of the Card of the Day
Today you have a test, so you need to be as prepared as possible for it. Do not worry about this, because this is a kind of exam, according to the results of which, you can confirm to yourself your ability to solve problems, which will positively affect your self-esteem.
This can affect different areas, for example, psychological confrontation with a loved one or competition at work, and here and there you can't give up, you need to show that you are still in great shape.
In any case, regardless of the result, whether it is a win or a loss, you will get a positive experience. If you openly meet this test and do everything in your power, victory will definitely be yours, it doesn't matter if you lose, in this case you will draw something you need.
Five of Wands: Advice Card
You will not be able to avoid stress, emotions and worries. You need to make an effort so that it does not harm you, but on the contrary, it benefits you.
It is important to correctly calculate your strength and not rush headlong to solving the problem, having soberly assessed everything, you can get to work.
You should not give up after the first difficulties that have arisen, and the main thing is to use the chance when it presents itself, and if you feel that you have the strength to act. Thanks to this, you can achieve significant results.
Five of Wands: Combination with other cards
Major Arcana
Wands
cups
swords
Pentacles

Jester

unsportsmanlike conduct; ignore other people's opinions

Ace of Wands

seize the initiative; do not miss your chance; snatch luck

Ace of Cups

love competition

Ace of swords

fight for victory

Ace of Pentacles

fight for finances

magician

team manipulation

King of Wands

constructive conflict; overcoming disagreements; strategy development; acceptance of responsibility

King of Cups

conflict with the king

King of swords

disagreements with a boss or authority figure

King of Pentacles

struggle for financial control

Priestess

confusion in the papers; intrigue

Queen of Wands

putting things in order; transition to a more mature level of relationships

Queen of Cups

quarrel with the queen

queen of swords

conflict with the smart queen

Queen of Pentacles

disputes with business woman

empress

find a mutually acceptable solution

Knight of Wands

pour oil on the fire; inciting passions; fueling conflict

Knight of Cups

conciliatory gesture to smooth over differences

Knight of Swords

war

Knight of Pentacles

business acumen

Emperor

politician; fight for power

Page of Wands

emerging compromise; careful weighing of the situation

Page of Cups

Page of swords

quarrels with a child

Page of Pentacles

financial offer dispute

Priest

overcome doubts

Two of Wands

loss of opportunity; failure that relegates you to the background

Two of Cups

showdown

Two of Swords

duel

Two of Pentacles

disagreement with the debtor

lovers

rivalry in relationships

Three of Wands

self-affirmation; overcoming difficulties; go through hardening

Three of Cups

quarrel in the company

Three of Swords

violent verbal altercation

Three of Pentacles

competition in the profession; struggle for the customer

Chariot

drown in controversy

Four of Wands

reaching agreement; finding a compromise

Four of Cups

avoid confrontation

Four of Swords

retreat

Four of Pentacles

fight for order

Strength

do not go beyond what is permitted

Five of Wands

Five of Cups

vulnerability due to competition

Five of Swords

bullying; insult; rat race

Five of Pentacles

fight for survival

Hermit

conflict with oneself

Six of Wands

take over; subdue; advance

Six of Cups

old conflict

Six of Swords

get away from persecution

Six of Pentacles

participation in the competition for a grant

Fortune

call of fate

Seven of Wands

protracted conflict; prolonged difficulties; constant attacks and nit-picking; stubbornly defending one's beliefs

Seven of Cups

futile struggle

Seven of Swords

show diplomacy

Seven of Pentacles

the need to evaluate the continuation of the struggle

Justice

take advantage of the imperfection of the judicial system

Eight of Wands

the conflict is gaining momentum; fast reaction; turmoil; dissent

Eight of Cups

withdrawal from the fight

Eight of Swords

complexes due to someone else's opinion

Eight of Pentacles

professional competition

Hanged

feverish search for a way out

Nine of Wands

the need to stay alert; suspense and opportunity analysis; gaining experience

Nine of Cups

the pleasure of winning

Nine of Swords

stress caused by conflict

Nine of Pentacles

fight for profit

Death

change of heart

Ten of Wands

bullying that knocked you out of strength; loss; lose to competitors dismissal

Ten of Cups

quarrels in the family

Ten of Swords

the final break of an ambiguous relationship

Ten of Pentacles

fight for inheritance

Moderation

moderate views

Devil

fate played a cruel joke

Tower

lose to a competitor

Star

wrong natal chart

Moon

hidden conflict

Sun

win a tender outrun rivals

Court

truth is born in a dispute

World

win the battle; affirmation of a new vision