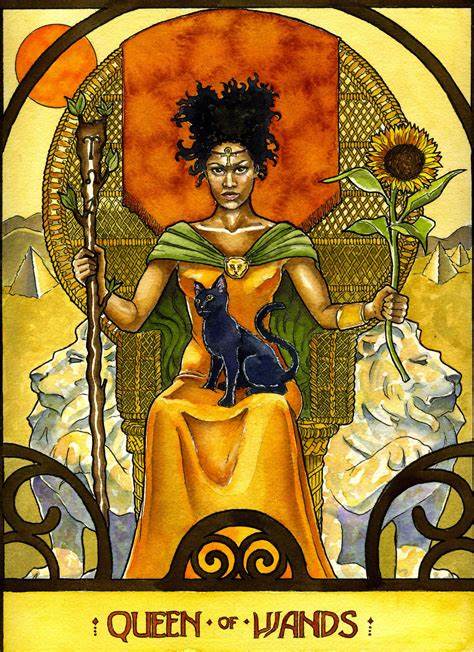 Queen of Wands: Tarot Card Meaning and Description
---
| | |
| --- | --- |
| Arcana name: | Queen of Wands, Businesswoman |
| Category: | Minor Arcana: Wands |
| Direct position: | Success, rigor, justice, love of luxury |
| Reversed position: | Jealousy, deceit, favor, favor |
Queen of Wands: General Meaning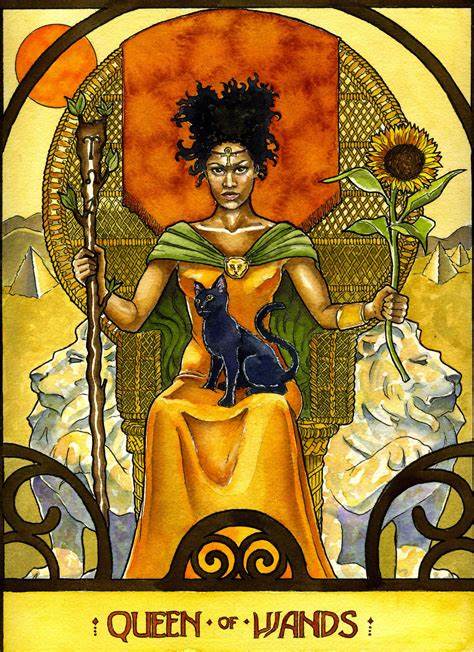 Direct position
Arkan is presented in the form of an experienced, mature and practical woman who took place in life. Often it is also called a magnetic personality, strong-willed and impressive. The one who gets this Arcana is a self-confident, active, enterprising, independent, open and charismatic person. He makes decisions quickly and decisively, but he still needs outside support. He is highly professional, therefore he is able to overcome obstacles, challenging fate.
Thanks to his pride and ambition, his claims to leadership are very relevant. He is independent and independent, successful and ambitious.
The Queen of Wands card is self-sufficient. Here her attractiveness, openness and goodwill are described, which means that a person can count on her support in his endeavors, he may have allies and inspirers. But another meaning of the card says that a bright opponent will appear in front of you, who will find it difficult to prove his advantages.
Reversed position
The reversed Queen of Wands is expressed in the impulsive and overly independent nature of a person. Often he simply lacks experience, he underestimates the complexity of the problems he faces. Under the influence of Arkan, he becomes cruel and domineering, he tends to show arrogance towards people. In addition, he does not want to help others, refuses to share his experience, does not want to do good to people.
Such a person is capable of even a treacherous act. And such an enemy should be feared, because his actions are not based on emotions (the Queen of Wands is a quick-witted and unforgiving person), but on logical thinking.
A person with this card is jealous, selfish and arrogant, in his behavior one can see: anger, revenge, and despair. And if the direct position of the card testified to friendliness, then in an inverted position, quarrels with friends arise. In turn, she has disagreements in the family and failure in business.
Queen of Wands: Meaning in Love and Relationships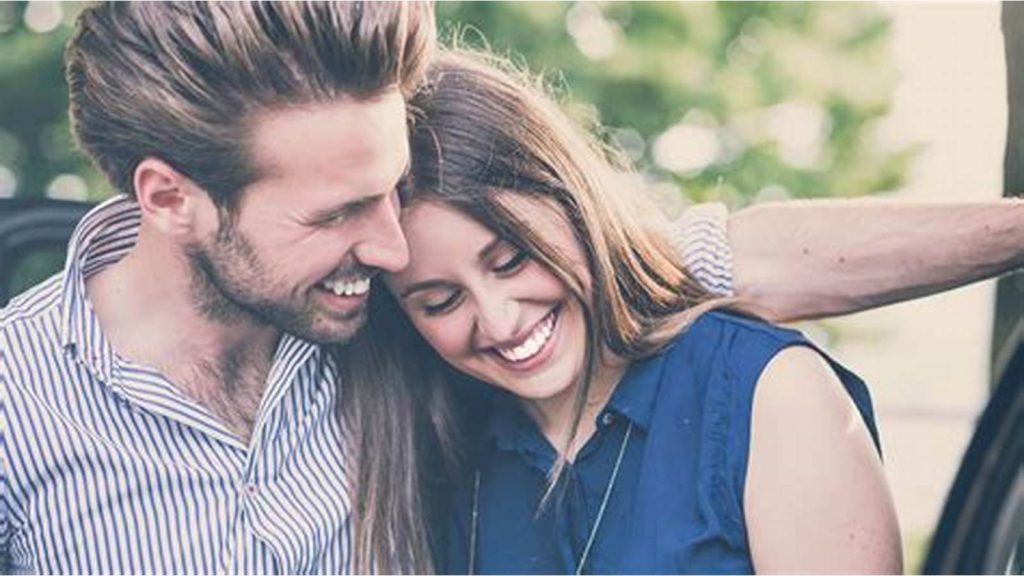 Direct position
The card is interpreted on the positive side. We can talk about the objective attitude of partners between whom there is equality and cordiality. A person under the influence of the Arcana, as it were, obeys a loved one, shows gentleness towards him.
He freely exchanges emotions and shares his impressions. There is a noticeable revival in the relationship. Even mutual indifference and almost destroyed relationships can revive when this card is laid out for love.
In general, a stormy, active and long-term relationship can be expected in the family. And they will line up in a beautiful and spectacular way. But in the long term, not only the harmony of relations and an optimistic attitude, the card speaks of the stability of a marriage in which great happiness is expected.
Reversed position
In relationships, jealousy, selfishness, vanity are observed. A person shows cruelty towards a partner. It costs him nothing to make a loved one dependent on himself and dominate him. He can show his stubbornness, mannerisms, moralism, be indifferent to the needs of other people.
The card falls to that person who is inclined to be an insincere and deceitful person, greedy and greedy. In a relationship, he is able to be unfaithful, therefore, he considers his jealousy to be quite justified.
Queen of Wands: Meaning in Situation and Question
Direct position
In a situation, Arkan implies such concepts as a strategy of plans and intense dynamics. A person just needs to quickly solve any business. A promising future and professional self-realization await him, but only if he adequately fulfills his obligations, and until the last he is confident in his abilities.
He should not be afraid of responsibility in the activities in which he is well versed. He can easily open his own business, and no longer work "for his uncle", but "for himself." He will have a lot of interesting and profitable ideas that are successfully implemented. It is possible that a person will be able to express himself in creative activity.
Reversed position
The lasso testifies to failures in various situations, both in domestic and professional situations. Under the influence of the Queen of Wands, a person becomes a very complex character, in the eyes of others he looks like a tyrant who behaves like a stubborn "ram". It is because of the human factor that there are big problems and instability in business.
Any activity with this card can be perceived as useless and unpromising. There is no development and no chance to realize at least part of their plans. Instability manifests itself in everything, it doesn't even make sense to chase after money, all efforts and aspirations regarding a career will be fruitless.
Queen of Wands: Card Meaning of the Day
A day for decisive action, when a person will feel confident and strong energy. Any, even the most difficult work will be on the shoulder. He is ready to take decisive steps, shows courageous qualities and an optimistic attitude to business. And the people around you will notice this, they will follow you, because many in life lack human support, optimism and wise advice.
The Queen of Wands card will give a person a fateful meeting with a temperamental nature that will play an important role in his life.
Queen of Wands: Board of the Card
There is no doubt that a person knows perfectly well what he wants from life and from this situation in principle. Thanks to his talent, courage, strength, independence and originality, you can count on great success.
And even if it seems to a person that he cannot cope with some things, you can use the help of intelligent advisers. They will not only lend a helping hand, but also point you in the right direction. And such people are bound to exist. Perhaps they themselves will want to help you, even if you do not ask them about it.
Queen of Wands: Combination with other cards
Major Arcana
Wands
cups
swords
Pentacles

Jester

personality prone to mood swings

Ace of Wands

creative inspiration; potential opportunity to express yourself

Ace of Cups

the birth of love or motherhood

Ace of swords

enterprise

Ace of Pentacles

financial support

Mage

a person who acts solely in his own interests

King of Wands

mature project; consistency and understanding

King of Cups

pair

King of swords

opposition from a powerful man

King of Pentacles

couple: confident woman and business man

Priestess

person with professional knowledge

Queen of Wands

Queen of Cups

confidence and understanding

queen of swords

face the hypocrisy

Queen of Pentacles

confident and business woman

empress

successful person

Knight of Wands

haste; risk of burnout as a specialist

Knight of Cups

proposal from a fan

Knight of Swords

open opposition

Knight of Pentacles

Consistently move towards your career goals

Emperor

successful career and family life

Page of Wands

exciting news

Page of Cups

pregnancy; hatching plans

Page of swords

meet a disgruntled person

Page of Pentacles

researcher

Priest

sincerity

Two of Wands

creative thinking; adjustment of plans

Two of Cups

engagement

Two of Swords

inability to assess the consequences

Two of Pentacles

worries about finances

lovers

devotion to feelings

Three of Wands

optimistic start of the project

Three of Cups

promotion

Three of Swords

divorce

Three of Pentacles

using your talents

Chariot

take control of your life; desire for independence

Four of Wands

see beyond your nose

Four of Cups

see beyond your nose

Four of Swords

vacation

Four of Pentacles

lady with a strong grip

Strength

intolerance

Five of Wands

uncoordinated cooperation

Five of Cups

unrealized project

Five of Swords

defeat

Five of Pentacles

demoralized lady

Hermit

enthusiasm that no one supports

Six of Wands

successful promotion

Six of Cups

former lover; happy coincidence

Six of Swords

moving; care

Six of Pentacles

new business opportunities

Fortune

accept the challenge of fate

Seven of Wands

boundless self confidence

Seven of Cups

dubious prospects

Seven of Swords

ingenuity

Seven of Pentacles

expectation of business results

Justice

personality striving for justice

Eight of Wands

OK; news from the Queen

Eight of Cups

end of relationship

Eight of Swords

fear

Eight of Pentacles

hardworking lady

Hanged

wasted sacrifice

Nine of Wands

restraining moment

Nine of Cups

winning position

Nine of Swords

bad feeling

Nine of Pentacles

confident in the future; wealthy woman

Death

lose the meaning of life

Ten of Wands

doomed project; conquest

Ten of Cups

marriage; living together

Ten of Swords

ruined perspectives

Ten of Pentacles

family member

Moderation

come to your senses

Devil

be cruelly deceived

Tower

lose life values; to lose yourself

Star

boundless self confidence

Moon

meet a rival

Sun

creative satisfaction

Court

creative upsurge

World

become an example for others