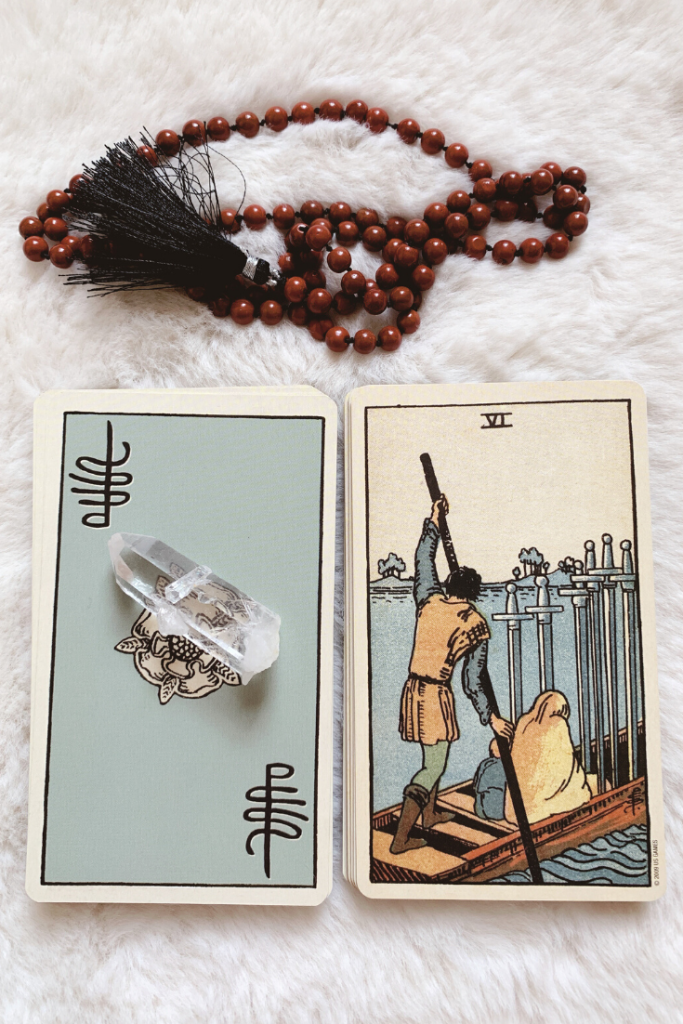 Six of Swords: Tarot Card Meaning and Description
---
| | |
| --- | --- |
| Arcana name: | Six of Swords, Trouble behind |
| Category: | Minor Arcana: Swords |
| Direct position: | Change, curiosity, chance for luck, travel |
| Reversed position: | Recognition, declaration, discovery, little chance |
Six of Swords: General Meaning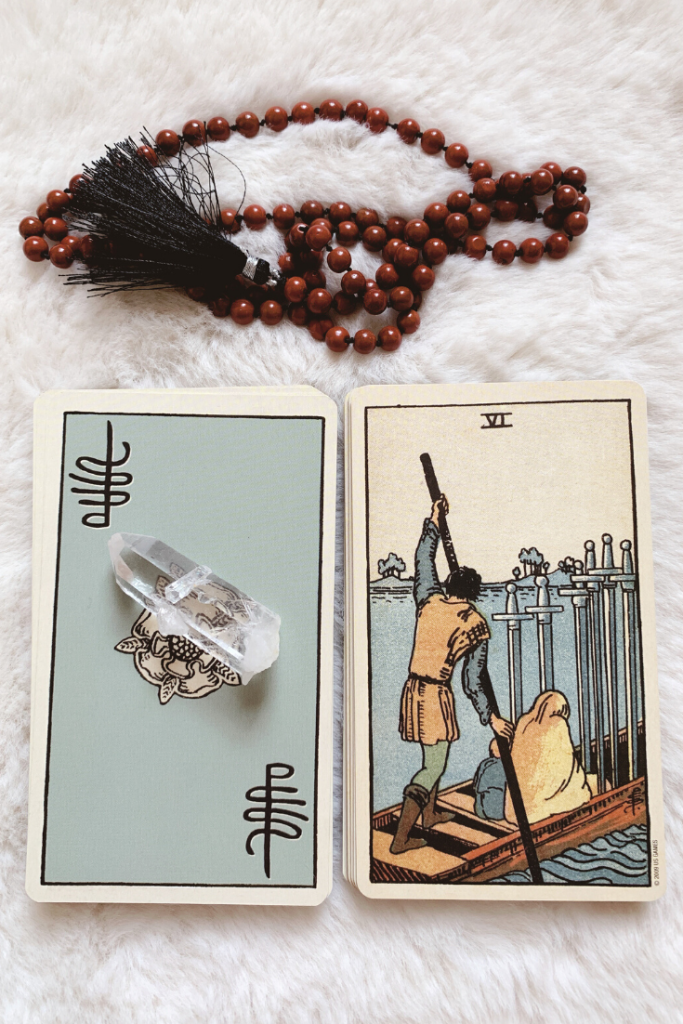 Direct position
The Six of Swords indicates that the time has come for a change. A fortuneteller wants to change his life, but is afraid of everything new, as he is a conservative by nature. You'll have to do some work.
It is possible that a fortuneteller will be carried away by one of the religious movements. Then his life values will become completely different, and his environment will change. The adaptation period will be successful. In a new environment, a period of happy events will begin for him. Even strangers will help him.
Reversed position
The Six of Swords is typical for those people who are used to doing everything slowly. They can not be called light on the rise. As soon as a disturbing event is planned, such personalities begin to get lost. It is very difficult for them, because it is difficult for them to leave problems in the past and move on in life.
Doubts and worries, fear of repeating a mistake again prevent them from going with the flow of life. People around should constantly help them, feed them with positive energy.
Six of Swords: Meaning in love and relationships
Direct position
The main meaning of the lasso is big changes. This may be parting with the current partner, but a new acquaintance is not excluded, which will radically change the life of the fortuneteller.
It may also be that the relationship of a married couple will reach a new level. It can be a joint romantic vacation in one of the warm countries, or maybe the couple will have a desire to become parents.
Reversed position
An inverted lasso suggests that quarrels and conflict situations cannot be avoided. None of the partners wants to hear the other, let alone pay attention to his problems. The card indicates that the fortuneteller feels deep emotional emptiness in such a tandem. He wants to change his life, but he does not know how to do it.
Perhaps the relationship has passed into the stage of habit, when people become uninteresting to each other. This time is very dangerous, as one of the partners will want to find a new chosen one. Romantic evenings, a joint trip, pleasant surprises will help to revive routine everyday life.
Six of Swords: Meaning in Situation and Question
Direct position
The card says that a calm happy time is coming. During this period, important life-changing decisions can be made. Communication with friends and acquaintances will be beneficial, among which potential partners for business or some business may appear. Favorable time to learn a new job.
The card says that with active actions everything can be achieved. A new vision of the situation will contribute to the fact that you want to change your lifestyle, and you should not be afraid of change. Perhaps, in a new profession, a person maximizes the creative abilities inherent in nature.
Reversed position
A fortuneteller is literally mired in problems, and does not know how to get out of them. All this is to blame - unreasonable actions that lead astray. It is difficult for him to make decisions, and he prefers to avoid responsibility for his every unseemly act.
Six of Swords: Meaning of the card of the day
Today is an interesting day that does not bode well. The card says that it is necessary to prepare for changes, and the sooner this happens, the easier it will be for the fortuneteller later. The main thing is to manage your own destiny, and not depend on any circumstances.
Six of Swords: Card Advice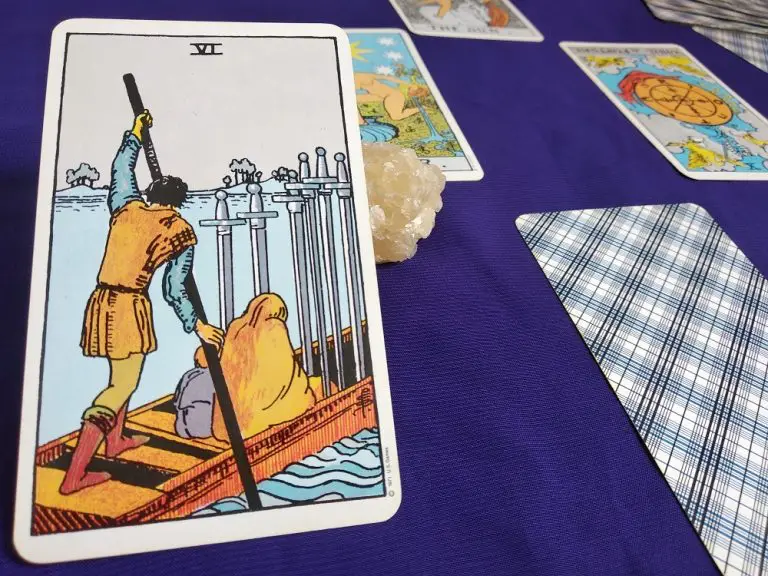 You should not stop there, you should show interest in new ideas and creative discoveries. It is necessary to listen to your inner voice in order to understand your true purpose in life, because a person has many unrealized talents.
Six of Swords: Combination with other cards
Major Arcana
Wands
cups
swords
Pentacles

Jester

moving, road; journey into the unknown; random rate

Ace of Wands

moving towards the light

magician

make connections

King of Wands

getting close to a man

Priestess

family secret; gaining a new outlook on life

Queen of Wands

getting close to a woman

empress

severe pregnancy

Knight of Wands

stray off course

Emperor

an attempt to correct the situation in the family or at work; transfer to another position or job

Page of Wands

move in with son

Priest

the path of mercy; search for wisdom

Two of Wands

moving

lovers

make a choice

Three of Wands

there is no turning back

Chariot

seek direction

Four of Wands

find a safe haven

Strength

gather strength

Five of Wands

out of the frying pan into the fire

Hermit

pay attention to yourself

Six of Wands

moving towards a better share; improvement

Fortune

go towards fate; turn to face Fortune

Seven of Wands

vain hope to find peace

Justice

reprieve

Eight of Wands

escape; gap

Hanged

make sacrifices

Nine of Wands

ungracious reception

Death

walk towards change.

Ten of Wands

drown in problems

Moderation

walk the path of recovery, healing

Devil

fall into the clutches of the Devil; indulge one's vices

Tower

take the path of loss and failure

Star

follow the advice of an astrologer

Moon

get into the scattered networks; the road to the unknown; "undercurrent"

Sun

search for happiness; Right way

Court

be punished

World

in search of peace; the rescue